JoDee and I are celebrating 14 years of being married together. In some ways it feels like yesterday that we were exchanging our vows, eating delicious cake, and trying to shoo everyone out so we could go on our honeymoon. :)
I mention the cake because the cake we had was amazing. We had our reception at Fox and Hounds (during lunch time because it was way cheaper) and The Fox and Hounds had an amazing pastry shop called The Fox and Hounds Pastry Den. I remember us getting a sampler of all of their various cakes and sampling them with JoDee, her sister, and her dad. JoDee made cards and we all voted on which cake we would have. What eventually won was a chocolate cake with white chocolate mousse filling and a vanilla butter-cream frosting. Apparently the cake was such a hit that several folks asked for seconds. One of the wait-staff had the foresight to hide the cake top so we could have some later on.
We froze part of the top and had it for our one year anniversary. It was still amazing.
Unfortunately The Fox and Hounds closed up. One of the pastry chefs bought the rights to the name, the recipes, and the pans and opened up his own shop far away from where The Fox and Hounds was.
My parents have been trying for some time to get us this cake. For various reasons it never happened (too far, couldn't get a hold of the chef, etc.)
We thought we'd had the last of that amazing cake.
Today my parents surprised us with that same cake. The chocolate cake with the white butter-cream frosting and the white chocolate filling.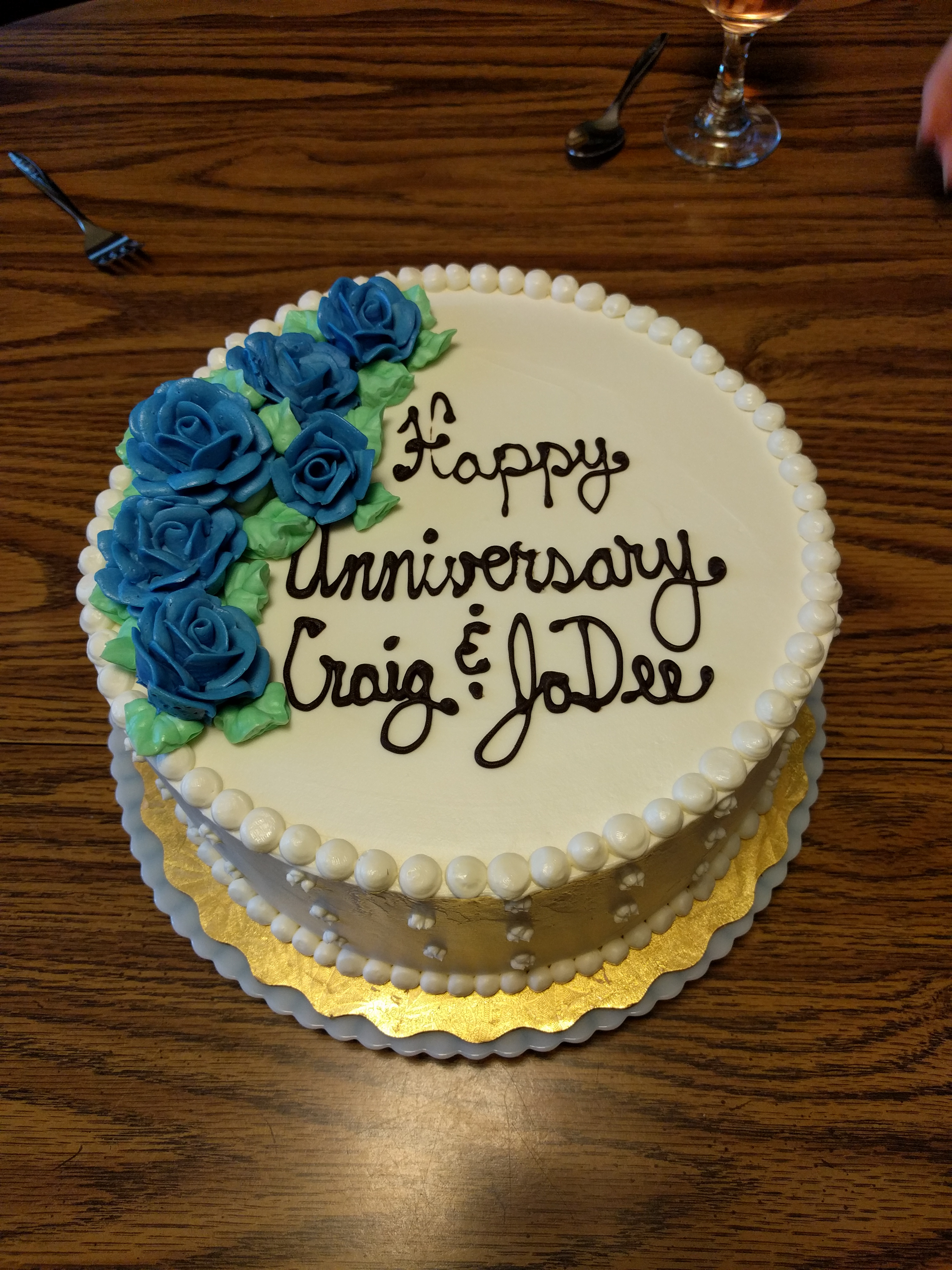 Apparently the pastry chef sold The Fox and Hounds Pastry Den to another one of the chefs. She recently re-opened her shop closer to us. She has all of the recipes, the pans, and even the cash register from the original den.
Today we got to taste a bit of our wedding night again. Even though we were full I couldn't help but try to eat another bite.
Thank you mom and dad for one of the best reminders of the happiest day of our lives.
Here's to many many more years of marriage. I love you sweetheart.