[caption id="attachment_3150" align="alignright" width="150"]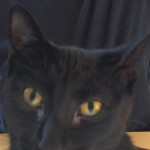 I only want your complete loyalty and a can of sardines; I already have your unconditional surrender.[/caption]
I'd like to apologize in advance for the eventual destruction of humanity by our feline friends.

It seems we are unwittingly training the "Over Cat" (or Über Kätze *). Over the past few days Pixel has learned how to ferret through shoeboxes and pull out valued tissue paper; tissue paper that she craves. But we're not talking about just lifting the lid. Oh no, she moves the boxes out from under the bed and then proceeds to remove their kitten-crack cargo. Also she has learned to use her paws as a prehensile scoop in order to grab "Toasted Oats" cereal remnants from the sink.
It can only be a matter of time until she can no longer be confined to these mere four walls, and will rise up from her meager birth to become the ruler of all.
I can only hope she is merciful.
All hail Das Über Kätze!
(* - Yes, I know the German word for Cat is Katze. Das Über Kätze will be working to change that to the more "metal" version soon).